"Greg Sudmeier has exclusively coordinated the Skywalker Symphony on numerous albums for me. He always gets the best players and is great to work with. Thanks Greg!"
Linda Ronstadt
"Dear Greg, I just wanted to tell you how much fun it was to work with you. It was truly a wonderful experience. You are a wonderful conductor, and are caring, efficient, and passionate about your craft. I really look forward to working with you in the near future. Fondly,"
Anna Maria Alberghetti
"Dear Greg, Congratulations on your CLIO Award! It was a pleasure working with you. All my best to you always."
Frankie Lane
"It is with great enthusiasm that I recommend Greg Sudmeier. I have known Greg for years. He is a first rate musician and conductor. I have seen his work with various orchestras. Greg's control of the forces in the pit and stage make for fast moving, entertaining, and commited performances. This is most gratifying to see in a conductor. I do hope you will favorably consider this fine American musician."
Dennis M. de Coteau
Music Director, Conductor
San Francisco Ballet
"I have known and worked with Greg on various projects since 1986... I wholeheartedly recommend Greg for his professional qualities and for his personal sensibilites.
Don Bleu
Radio Personality
KIOI / Star 101
San Francisco, CA
"I have worked with Greg on many theater productions as well as several industrial shows for Discovery Toys and I am always thrilled with his work. He is creative, flexible, insightful, positive, and more than capable of pulling off whatever I have thrown at him, even at the last minute! His conducting is of the highest caliber, his writing and arranging is right no matter what the style, and his production work is excellent and efficient. I can't wait until the next project together as Greg is a treasure chest of talent."
Bill Starr
Producer, Director, Choreographer
"I have had the privilige of having Greg Sudmeier on the Hayward La Honda Music Camp staff as Director of Percussion Studies for many years. He has a tremendous influence on over 300 young musicians each summer. We are indeed fortunate to have such an experienced professional, multitalented teacher, director and percussionist on our camp staff. I strongly reccommend Greg Sudmeier for any musical needs requiring outstanding musical production services at either the professional or educational levels."
Milt Bowerman
Camp Director - Hayward La Honda Music Camp
"Your original writing and production work for the Catholic HealthCare West Industrial Show in Las Vegas was fantastic! Not only did your score fit the visuals perfectly, the original Gospel style - Inspirational song you wrote and produced for the big closing event brought the client and the several hundred in attendance to the heights of emotion. Outstanding job!"
Bill Emberley
EditOne Productions
"We have worked with Greg for years on many projects with outstanding results. When we're assembling orchestras in the San Francisco area, we rely on Greg Sudmeier for his exceptional sensitivity to our needs and for the extraordinary musicians he provides."
George Massenburg
Producer-Recording Engineer
"Greg, I love the music you produced for the "Mr. Buddy" show! It fits my personality perfectly and it makes the kids want to dance and sing to boot! Great work!"
Ken Herman - Actor, Performer
"Mr. Buddy" Children's Show
"Greg is one of the Bay Area's best kept secrets! His work as musical director and drummer for The Afternoon Show was worthy of the praise that invariably came from every musical artist who appeared on the show, and these were big name stars. His production and conducting were wonderful for the Oakland Symphony benefit concert we did together. His recent emergency arranging work for me saved a crucial performance too! I can always count on him and will recommend him to anyone in a heartbeat."
Ann Fraser
"The Afternoon Show"
CBS/KPIX TV - Channel 5
San Francisco, CA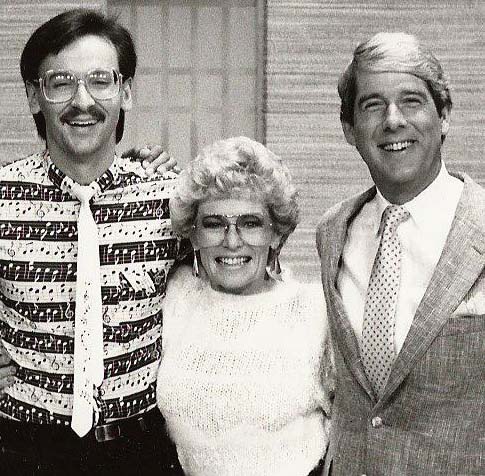 Greg, Ann Fraser, and Ross McGowan
"The string section that Greg put together for our album 'Trial By Fire' brought the music to a new level.; Thanks Greg!"
Steve Smith - Journey
"I have had the great pleasure of working with Greg Sudmeier in the capacity of orchestra contractor, musical associate and percussionist. I found him to be a superb collaborator in all these capacities.
Our first project together was in producing the orchstral recording sessions for the premiere of George Lucas' The Young Indiana Jones Chronicles. Greg put together a world-class orchestra. The music, recorded on the Skywalker Sound soundstage, was of symphonic proportions and the orchestra met every demand brilliantly. Greg also provided the entire copying department, as well as any required additional orchestrations. Everything was very well organized and the 3-day session went smoothly and efficiently. The entire Lucas organization was thrilled with the results. Greg's percussion work is also of the highest professional quality.
Greg's skill and cooperative spirit were again demonstrated in the recording of my score for 'Mark Twain and Me' as well as in our collaboration on the television film 'The Member of the Wedding,' also recorded at Skywalker.
I can heartily endorse Greg Sudmeier for any work involving the organization of recording sessions and the assembling of orchestral ensembles of the highest order of musical excellence, not only becuase of his skill and efficiency, but also for his personal warmth and attentiveness."
Laurence Rosenthal
Film Composer
"I have worked with Greg in several capacities. He has played, orchestrated, and produced on various projects which I have completed. I have always found him to be an extremely capable and creative musician; a wonderful arranger; a hard worker; and a good friend. You could not do any better than to work with this fine musician."
Ken Medema
Composer, Performer - BriarPatch Music
"It is indeed a pleasure to recommend Greg because he is an unusually talented and dedicated musician. He has always sought out playing and performing experiences, will contribute his time to work with organizations that need his talent, and always performs in a superior manner. He is a brilliant and unique person."
Eugene Graves
Educator
"...Selecting just one of Greg's fortes is all but impossible. His ability as a total percussionist in any phase/style of music; his super-creative and profound intellectual capacity; his ability in composition; his natural ability in the role of teacher; and his personal, and humanistic behavior toward all others combine to describe a man who is a veritable wealth of knowledge and a man who is capable of diseminating that knowledge clearly and succinctly via performance, speech and demonstration. In summary, let me assure you that few individuals could possibly measure up to the complete musicianship which Greg has gained appreciable recognition for. Greg represents a caliber that can only be described as "ultra-professional."
Elliot Charnow
Educator
"Greg Sudmeier was awarded the Duke Ellington Scholarship at Eastman School of Music because of his superior musical sensitivities and skill. He is a gifted writer and a great person."
Manny Album
Composer-Arranger, Educator