*Composer * Arranger * Producer * Musical Director * Contractor*
*Conductor * Educator * Drummer-Percussionist*
"Welcome to GSMP! I invite you to listen to the wide assortment of music bytes on this site. Offering a comprehensive variety of professional musical services in all music styles, GSMP is a complete music production house. I am committed to providing the best possible musical product. What do you need music and/or musicians for? A custom Demo...a Choral project...a Stage or Television show...a Jingle...an Industrial show...a major release Album...or a feature Film? No matter what size project - GSMP "produces." I hope your experience here will inspire the opportunity to work together!"
- Greg Sudmeier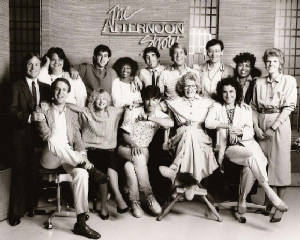 The Afternoon Show Staff CBS-KPIX, SF
As Musical Director and Drummer for The Afternoon Show with Ann Fraser and Ross McGowan (CBS-KPIX TV San Francisco ), Greg worked with such artists as Sammy Davis Jr., B.B. King, Bobby McFerrin, Pete Escovedo, Mary Wells, Mel Torme, Rosemary Clooney, Les McCann, Joe Williams, and many more.
"Conversing" with R2D2 in concert
Contracting for the "Skywalker Symphony," San Francisco Bay-Area's premiere recording orchestra, Greg has worked exclusively on sessions for feature films and albums, while coordinating the finest recording musicians in all styles and idioms.

StarWars percussion: Greg, Tom Hemphill, John Williams, Ray Froelich, Rick Kvistad, Artie Storch

A prolific composer, Greg has written and produced television show themes including Mac and Mutley, Evening Magazine, The Afternoon Show, Pacific Currents, KPIX Latenight Movie, music segments for K101 - Don Bleu Morning Show, as well as original music for corporate and industrial projects (Discovery Toys, Catholic HealthCare West, Redken Hair Products, Ken Medema - Briarpatch Productions, and more). Greg's CalTrain radio commercial won the prestigious CLIO advertising award for Best Musical Adaptation.

Greg's extensive experience with Skywalker Sound at Lucas-Digital/Lucasfilm includes contracting for and performing on numerous feature film soundtracks, jingle and album sessions, such as John Williams' Grammy nominated StarWars Trilogy CD - CBS Sony Classical Label.

StarWars Trilogy - John Williams



Leading the Orchestra on the Skywalker SoundStage