Educator
Greg's private students are professional drummers, working with artists such as Sheryl Crow, Counting Crows, Dixie Chicks, Eric Clapton, NY Broadway shows, TheaterWorks, and San Jose American Musical Theater. Greg is in demand as a guest lecturer on drumming techniques and general musicianship for a variety of educational programs for all age levels and organizations, including The Recording Academy (NARAS - Grammy organization). He has served on the NARAS Board of Governors for several terms. Greg has used his teaching skills as Vocal-Instrumental Director for a combined 17 years in church choral directing. Greg serves yearly as Instructor of Percussion for the YMCA-La Honda Music camp, in the Santa Cruz mountains, CA. Greg has served on the staff of the University of Hawaii at Hilo and the University of the Pacific (UOP) as a jazz educator, teaching instrumental ensembles and drum set. As an Associate Professor at Cal State Hayward, CA, Greg has served as an educator and musical director in the Theatrical Department. He has also served on the summer staff at Chabot Community College, Hayward, CA, as Vocal Director for numerous theatrical productions.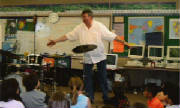 Educating all ages
Student Comments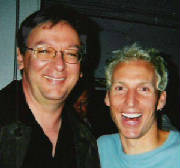 Backstage with Jim Bogios of Counting Crows
"Studying with Greg has helped me with many facets of my musical career. He prepared me with technique, rudiments, reading, groove, and numerous musical styles. Most importantly, studying with Greg gave me insight to surviving and prospering in the music business. It is truly rare to find such an amazing musician with vast experience who also possesses the gift to convey and translate this knowledge to others. I call upon the lessons I have learned from Greg every day in music, and in life."
Jim Bogios (Counting Crows, Sheryl Crow, Dixie Chicks)
"Greg has been the single most influential music educator in my life. Not only did he give me all the skills needed to become a professional drummer, he opened my eyes to become a musical drummer - not just a time keeper. Every time I walk away from a lesson, I have a fresh perspective on music. Even after almost 10 years of studying with Greg, he still gives me valuable knowledge."
Matthew Vander Ende - (NY Broadway drummer: Wicked, The Producers, Lion King, and more)
Awards
CLIO Advertising Award

Best Musical Adaptation - Radio Commercial - CalTrain
Eastman School of Music

- Duke Ellington Award

-

Outstanding Achievement in Arranging and Orchestration

Grammy nomination

- StarWars Trilogy with John Williams and the Skywalker Symphony - CBS-Sony Classical